Most Airplay speakers are expensive. They usually cost between 150€ and 600€. I decided to build a cheap Airply Speaker myself for less than 70€. If you want to build one too, here are the instructions with links to get supplies.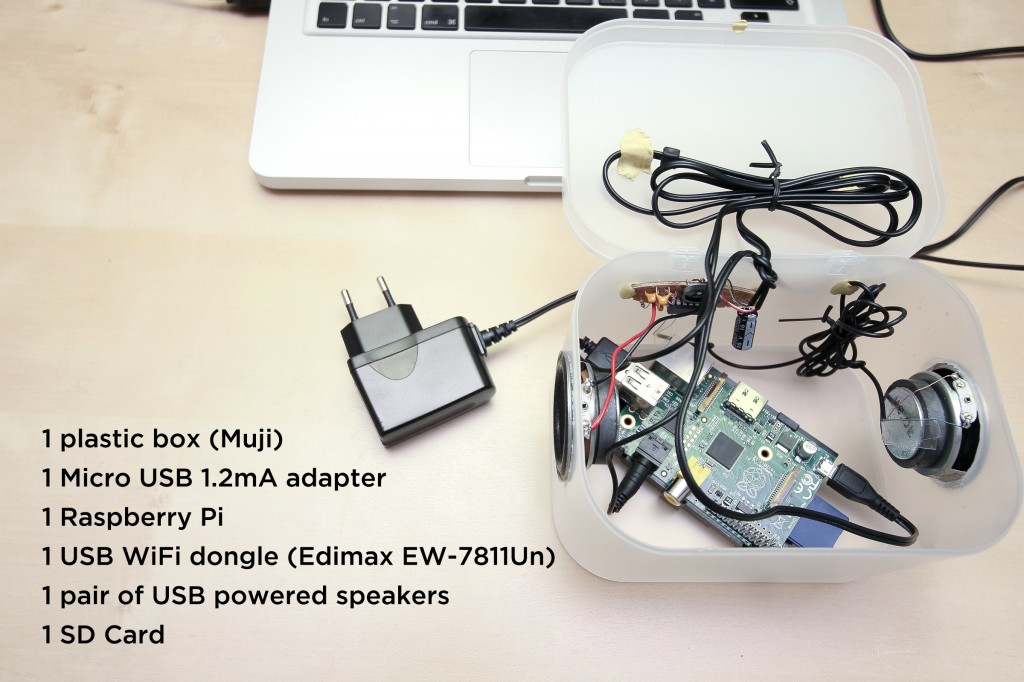 To build a small Airplay speaker, here is what you will need:
1 plastic box: 8€ from Muji
1 power adapter: 7€ from RS Components
1 Raspberry Pi: 32€ from RS Components
1 Edimax EW-7811un USB WiFi dongle: 10€ from Amazon
1 pair of USB powered speakers: 8€ from Pearl.fr
1 SD Card: 0€. You probably already have one.
Assembling
Extract the speaker drivers and the amplifier from the USB powered speakers. The amplifier happens to be a LM4863 and the drivers have a diameter of 5cm.
Cut two holes on the side with a 4.5cm with a hole saw (that goes on an electric drill). The hole must be a little smaller than the driver for them not to fall into the box.
Place the speaker drivers from the outside of the box, and glue the border from the inside of the box.
Solder the speakers to the amplifier.
Install the official Debian, install Shairport, configure the WiFi connection. Make sure that WiFi connection and the shairport software are launched at boot time.
Plug the amplifier to the Raspberry Pi with the audio jack and the USB plug.
Pack everything into the box.
Plug the power.
That's all!
The sound is fairly loud (enough for a kitchen or a bathroom) but the amplifier suffers from some minor interference noise. To make it look cooler, I will probably wrap it in a felt sleeve and add a cork top. I might also add a 5V battery to make it autonomous, but it would increase the cost of the projet.
At the end, the device is cheap, stylish and sounds pretty good for the cost. Feel free to ask questions in the comments.